Open city information model from the WFS interface service
Espoo's aboveground 3D city model is openly published through the WFS service for everyone to use.
The publication contains the 3D city model object types listed in below.
Open, aboveground city model data has been published under the Creative Commons Attribution 4.0 International license.
If you use the data, mention the names of the licensor and the data and the time, e.g. "City of Espoo, city model data, 09/2018".
City model datsets are planned to be updated in every three month.
Each object have a unique attribute (releasedate) which shows a date when a object have been updated in interface services.
Interface technology
The WFS publications of the City of Espoo are based on the OGC WFS 1.0.0 and 1.1.0 standards. The service includes feature types based on several different schemata:
| | |
| --- | --- |
| Schema | FeatureType |
| KuntaGML | akaava:, kanta:, rakval:, mkvt:, mkok:, mkos: |
| OGC CityGML 2.0 | bldg:, dem:, frn:, gen:, luse:, tran:, veg:, wtr: |
| Espoo custom schemas | GIS: |
Some publications in the interface services are password-protected and not available to everyone.
Open interface data is described here:Open data resources
The names of the CityGML object types used in the city model describe the type of each object and its level of detail (LoD).
You can order city model data in import file formats (Sketchup, CityGML, DWG). Please contact karttatilaus@espoo.fi. Data requests are subject to a fee.
Data is available for free from the WFS interface service described above and the Espoo map service (file delivery for LOD1 buildings only).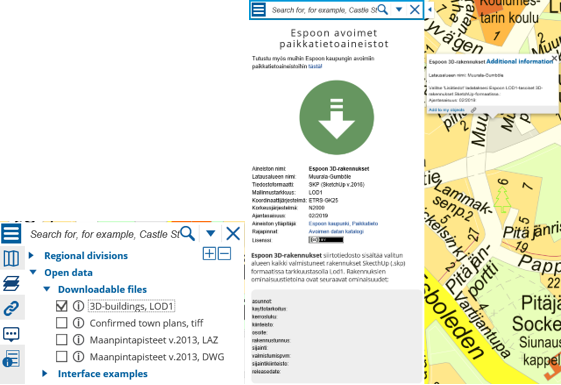 Requests for materials
If you need special materials or data, contact the City of Espoo's Map Production: karttatilaus@espoo.fi
Examples of data being processed with different software:
FZK-Viewer
FME 2019.0 beta